Treasures
I am sitting down writing this reflection just after finishing my morning prayer on the Feast Day of St. Lawrence, a martyr of the early Church. It reminds that being a Christian has never been easy. Our faith has been under attack from its very beginning when Christ gave it to us. Christ's words from the Gospel today are prophetic. His own journey to do the work of His Father in Heaven came with a high cost, yet He did it willingly. Are we willing to do the same even when our faith can be under attack even from within our own families? Are we afraid or hesitant to even address some of the issues of today because they may cause strife at home?
It is at home within our own families that is the very best place where our faith can be taught and strengthened. We need to be prepared to defend, protect, and teach our faith from the home first and foremost. We need to be able to talk about the issues of today. Our families need to know why the Church has issues with abortion, homosexuality, same sex marriage, gender identification, cohabitation, and many other issues our children and families must deal with. Some of these have become so mainstream and accepted in our current society our families believe that these are the norms.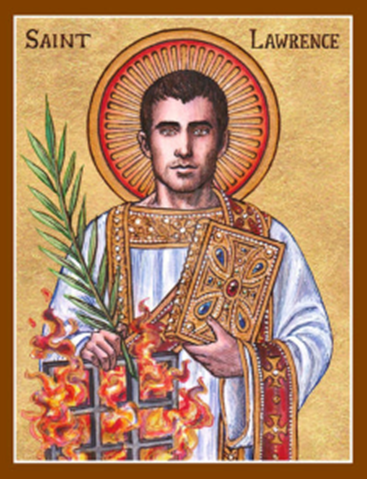 It is at this level that Jesus is speaking to us today. He knows the important role families will play in His mission. We need to be able to pick up this cross even when carrying it may be at home. We must be prepared with the facts and knowledge of church teaching but most of all we need to have love and kindness in our hearts. We also must be prepared to be rejected, even by our own families.
St. Lawrence was brought before his persecutors and told that in order to save his life he was to bring all the treasure of the church to the Emperor. Three days later He showed up with all the poor, handicap, and misfortunate Christians he could find and presented them to the Emperor. These were the real treasure of the Church. St. Lawrence gave his life for those treasures. Our families are that same treasure.
May Jesus live in our hearts forever.
Deacon Chris