"Come to me, all you who are weary and find life burdensome and I will refresh you. Take my yoke upon your shoulders and learn from me, for I am gentle and humble of heart. Your souls will find rest, for my yoke is easy and my burden light." (Mt 11:28-30)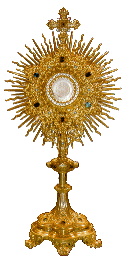 Why Have Eucharistic Adoration?
The underlying theme of the Church's Eucharistic teaching is the fact of "Christ's consoling presence in the Blessed Sacrament. His Real Presence in the fullest sense; the substantial presence by which the whole and complete Christ, God and man, is present"  (Pope John Paul II, September 29, 1979).
Once this fact of faith is recognized, it is not difficult to see why prayer before the Blessed Sacrament is so efficacious. Indeed it explains why, without a second thought, Catholics have simply referred to the Real Presence as the Blessed Sacrament. It is a Sacrament, or better, it is the one Sacrament which not only confers grace but contains the very source of grace, namely Jesus Christ.
If you are able to give our Lord one hour each week in Eucharistic Adoration and would like to schedule a time, please call the rectory or Paula Warnalis at 215-715-6911 to reserve your time with the Lord.
The Blessed Sacrament is exposed in the Church from 7 AM to 7 PM from Monday and Wednesday and on Friday from 7 AM to 5 PM each and every week. You are welcome to share an hour with Him at any time. Jesus said "Peace be with you" and "Come to me, all of you who are burdened, and I will refresh you." He is waiting. He is knocking. Please come and be refreshed.
PRAYER
Dear Jesus, my God and Savior,
I believe that you are here in this most Blessed Sacrament.
I love you and adore you.
I offer you every beat of my heart and every breath I take
as an act of love for you now and always.
O Jesus, fill me with an intense desire to be in your awesome presence,
to love and thank you with all my heart.
Most Sacred Heart of Jesus
grant me the grace to love you in this most holy Sacrament.
May all the world come to know and love you
and be one in you and your love.
Lord increase my faith and my appreciation
of your continual presence among us.