Mary, Mother of the Holy Eucharist
On the upcoming Solemnity of the Assumption, we honor Mary, gloriously assumed body and soul into the splendor of Heaven. However, our Immaculate Mother does not draw attention to herself, but leads us to a more fervent devotion to her Divine Son, Jesus in the Most Holy Eucharist. Mary is the Mediatrix of All Grace, especially the greatest grace and gift of all: Her Divine Son in the Sacrament of His Love.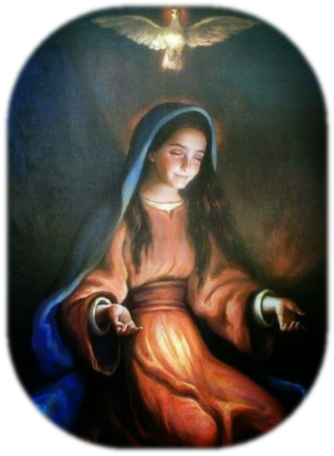 At the Annunciation by her "Yes" to God, Mary became the first tabernacle. In this instant, the Eternal Word leapt down from Heaven and "He whom the whole world cannot contain enclosed Himself in your womb, O Holy Mother of God." Mary is the new Ark of the Covenant containing not just the Word of the Torah or Law, but the Eternal Word, Jesus Christ. The Litany of Loretto addresses her as the "Cause of our Joy, Spiritual Vessel, Vessel of Honor, Singular Vessel of Devotion" and the "House of God." She is the "Seat of Wisdom" because once born, Eternal Wisdom made her lap His throne. St. Thomas Aquinas says her greatest honor is being the 'Theotokos' – God Bearer or Mother of God.
The Holy Eucharist is the Body and Blood, Soul and Divinity of Our Lord Jesus Christ, which He instituted at the Last Supper. The flesh that was to be crucified, raised up in glory by the Father, and given to us sacramentally in the Eucharist is the flesh He received from the Virgin Mary. As the translated antiphon of the Latin text of Ave Verum Corpus proclaims: "Hail, true Body, born of Mary the Virgin". Truly she is the Mother of the Eucharist, Our Lady of the Blessed Sacrament!
Devotion to Our Lady leads us to her Son especially in the Eucharist. Saint John Paul II stressed the importance of spending time in prayerful Adoration of the Blessed Sacrament, truly present in the monstrance and in the tabernacle, as well as participation in the Mass every Sunday and on weekdays when possible. This holy meal is also a Sacrifice representing that of the Cross and it is the Lord who is present offering Himself to the Father on our behalf.
During this parish year of the National Eucharistic Revival, let us resolve to spend more time in Eucharistic Adoration, attend Holy Mass more frequently, increase our devotion to Mary and participate in the upcoming spiritual programs and social activities our parish offers. Nothing can take us from God when we are armed with the love of Our Lord in the Eucharist and the love of His Mother. We need the Eucharist. We need Mary, Mother of the Holy Eucharist.
May God love and bless you!
Sr. Kathleen Fitzpatrick, IHM