What Do You Hunger For Most?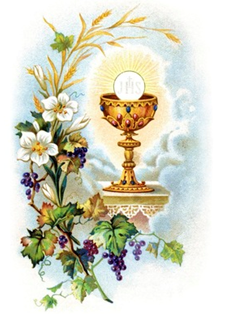 This Sunday's Gospel is an important part of the most profound theological treatment on the Eucharist. It is taken from Chapter 6 of John's Gospel, the Bread of Life Discourse. Today Jesus tells us 'not to work for food that perishes, but for food that endures for eternal life' – His own Body and Blood in the Holy Eucharist. After prayerfully reflecting on Jesus' words and actions, we are drawn to ask ourselves: What do we hunger for most in life?
I asked myself that question for the first time in the Summer before my Senior year in High School. At that time, I was trying to discern what God wanted me to do with my life. One Saturday, after going to Confession, I was praying before the Blessed Sacrament in my parish church. Suddenly, I knew in the depths of my heart that God wanted me to become a Religious Sister and strive to always make Him the center of my life. This deep desire persisted in spite of the obstacles I encountered, and my own faults and weaknesses. Throughout the vicissitudes of life, our Faithful God has granted me strength and peace in my vocation.
What do you hunger for most? I am certain that you whom God has chosen for the Married, the Single, and the Priestly vocations have experienced God clearly speaking to your hearts also. As St. Augustine articulated at the beginning of his Confessions, we are made for God and our hearts are restless until they rest in God. So, the Holy Spirit is speaking to everyone when He tells us to stop working for food that perishes. There is nothing wrong with wanting a good paycheck to take care of our families, or buying nice things from time to time, and it is admirable to take care of others' needs. However, we must remember that everything we buy will eventually turn to dust and everything we do in this life will eventually be forgotten by others.
The only thing that is ultimately satisfying and will last eternally is a close relationship with Jesus Christ. This relationship is nurtured through prayer, scripture, spiritual reading, serving others, and frequent reception of the Sacraments, especially the Most Holy Eucharist. The Eucharist is Jesus' own Body and Blood that leads to Eternal life. Every time we receive Holy Communion, Jesus truly comes to us and touches the depths of our souls. This is what I hunger for most. I hunger for God's touch. Don't you?
God love and bless you!
Sr. Kathleen Fitzpatrick, IHM