The Power of the Holy Spirit
       Jesus spent such a short time on earth with us.  Thirty-three years seems to be not enough time to do all the work we all wanted Him to do.  In fact, Revelation itself ends when the death of the last apostle takes place.  We have been told everything we need to know about Jesus, who He is, who the Father is, and what He calls us to do.  Our human nature wants everything easy; we always want more. Jesus knew this about us; He created us.  This is why He sends us the Holy Spirit: the Advocate, the Paraclete, the Third Person of the Trinity, who stands beside us and in us to guide us through this part of our eternal lives.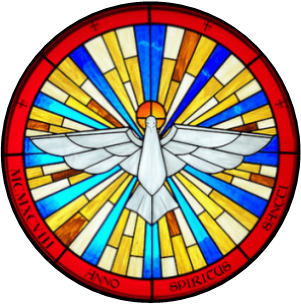 The Holy Spirit is always in motion in our lives. All of the graces and gifts from God are brought to us by the Holy Spirit. The authority of our Church and the work of its ministers from the Pope down to the deacon flows through the Holy Spirit. The Holy Spirit inspired the Word of God we read in Scripture. It is through the Holy Spirit the sacraments are brought to us, where our relationship with Christ flourishes. And most of all, it is the Holy Spirit we are sealed with to become full children of God and to spread and proclaim His Word. The Holy Spirit draws our interior spirit close to Jesus. We are called to be closer to Him and to the Father than even the apostles were!
Teilhard Chardin once said that the law of gravity and the law of love ultimately have the same source and are both driven by the same spirit, the Holy Spirit. We can not deny the power and working of the Holy Spirit in our lives just as much as we cannot ignore the laws of gravity. What we need to do is embrace the Holy Spirit and let Him guide us through our lives.
May Jesus live in our hearts forever.
Deacon Chris