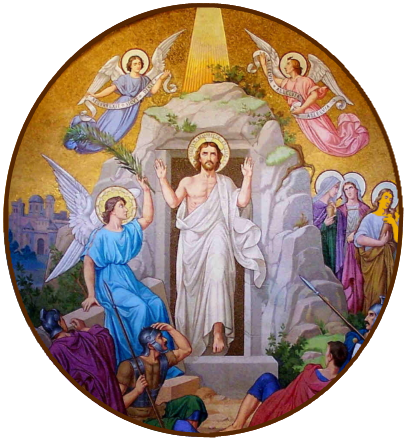 REJOICE!
"This is the 'day which the Lord has made.' Alleluia! Take fresh hope, brothers and sisters of the whole world! With Christ our Passover, everything is possible! Christ goes forward in our future!" These beautiful words of praise were spoken by Pope John Paul II in his 1991 Easter Message.  It was true then, and true now, that Our Lord Jesus Christ defeated death and rose with His Glorified body on that wondrous day.  Making His Passion even more glorious and wonderful is that we join Christ in His Resurrection. We, through Christ's sacrifice, will also be resurrected.
On Easter, we remember what Our Lord has in store for all of us when we accept, embrace, and have faith in Our Lord and Savior. It is easy to forget what is truly in store for our eternal future. The things of this world are constantly working against us, making it difficult to even believe such wondrous things. Even the apostles, in their own sorrow, forgot the teachings of their beloved Rabbi. He told them on the third day that He would rise from the dead; yet, they struggled to understand what they were witnessing. What a testament to our own faith that we believe and celebrate without being there on the first Easter Day.
On this Easter Sunday, we can also celebrate the fact that those who have gone before us in death will be reunited with us. Death is no longer the end of life because through Christ, we continue to have a relationship and will be reunited with all our beloved. Knowing this, we can truly no longer fear death. What a happy day this day is.
Let us sing with joyous voices and embrace all that we love as we enjoy the gift Christ has given us…the gift of our repaired relationship with our Creator whom we can truly now call Our Father.
May Jesus live in our Hearts forever!
Deacon Chris