Mary, Spouse of the Holy Spirit
        As we wait in joyful hope and expectation for the celebration of the Birth of Jesus, we reflect on our Gospel in which Mary and Elizabeth were also waiting in joyful hope and expectation for the births of Jesus and John the Baptist. On this last Sunday before Christmas, our thoughts turn to Mary, as she carried Jesus, the Son of God and Savior of the world, in her womb.
        When Mary greeted her cousin, the Holy Spirit descended upon Elizabeth and on John the Baptist in Elizabeth's womb. St. Louis Marie de Montfort, who is renowned for his devotion to Mary, tells us that when we possess Mary, we also are blessed with the presence of her Spouse, the Holy Spirit: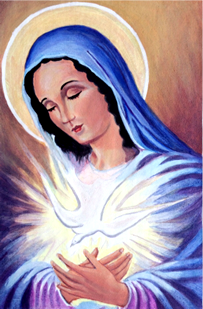 "When the Holy Spirit finds his Spouse in a soul, he flies to that soul, to communicate himself to it, to fill it with his presence, in proportion as he discovers there the presence and the fullness of his Spouse. One of the major reasons why the Holy Spirit does not now work blinding wonders of grace in our souls is that he does not find in us a sufficiently strong union with Mary, his indissoluble Spouse."
 (True Devotion to Mary, part 1, chapter 1, article 2)            
        So, when Mary is an important part of our lives, the Holy Spirit will fill our hearts with an abundance of grace, just as the Holy Spirit fell on Elizabeth and John the Baptist when Mary spoke. Therefore, we can proclaim that the closer we are to Mary, the closer we are to her Spouse, the Holy Spirit, and the closer we are to God the Father and his Son, Jesus. Mary leads us to God and when we have Mary in our souls, the Holy spirit comes to us.
Mary, in cooperation with her Spouse, the Holy Spirit, became the Mother of Jesus. It is no wonder that Elizabeth says to Mary, "Blessed are you among women, and blessed is the fruit of your womb." These inspired words have become part of that beautiful prayer, the 'Hail Mary'. Mary is truly the Mother of God, the Mother of the Church and our Mother, who leads us always to her Son, Jesus. The best way to draw close to Mary, and thus to the Blessed Trinity, is to devoutly pray the 'Holy Rosary'.
As we prepare to commemorate the birth of her Divine Son, Jesus, let us spend time in prayer with Mary, that she may implant her roots in our souls and grant us wonders of grace which she alone can bestow, and pray that her Spouse, the Holy Spirit, may fill our hearts with his loving presence!
Have a Blessed Christmas!
Sr. Kathleen Fitzpatrick, IHM