+Dear Saint David Parishioners,
             In today's Gospel, we are called to consider the essential virtue of perseverance. This is an important virtue in everyday life and most especially in the spiritual life. Perseverance challenges us not to give up, but to keep on trying even when things get tough or perhaps when we feel our prayers are not heard and/or answered.
We recently celebrated the Feast of All Saints. The saints, as we know, are the friends of God. They persevered in serving and loving God throughout their lives. We hope that, with God's grace, we and our loved ones will develop a deep friendship with God. We have been loved into existence by a God who wants to be a part of our everyday lives. He does not force Himself upon us, but at Baptism, He has infused within us a desire for God. As Saint Augustine reminds us, "My heart is restless, O God, until it rests in You." Wow, this is amazing! We have a God who holds each of us in the palm of His hand (Isaiah 49, 16). He is constantly inviting us to the banquet of His life in the Eucharist where we receive the Body and Blood of Jesus, our Savior. And in receiving Him, we are invited to become what we have taken in – to be more like Jesus.
What a gift is ours. What tender love and mercy are ours. In this season of Thanksgiving, we thank Jesus for the gift of Himself in our lives. How can we instill these truths into our loved ones? There are many resources, such as the Bible, the Catechism of the Church, spiritual reading books, and discussion of the readings for Mass with your family each week. Most importantly, however, is our personal witness – the way in which we love and care for the members of our families.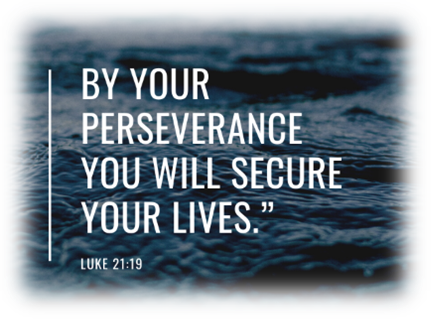 Providing worthwhile witness to others takes effort, courage, and perseverance. We are not alone; Jesus is closer to us than we are to ourselves. We must surrender to Him and let Him lead the way. When we trust God with our difficult situations and let Him take over, Jesus will surprise us every time. He will either inspire us with wisdom in speech, or assist us in taking a particular action, or enlighten us to make a decision that aligns with His will. Jesus encourages us to persevere in today's Gospel, "I Myself will give you a wisdom in speaking that all your adversaries will be powerless to resist or refute. … By your perseverance you will secure your lives."
Happy Thanksgiving blessings to all!
In Mary's Immaculate Heart, I am,
Sister Mary