Christ gave us the first commandment to love God with "all your heart, with all your soul, with all your mind, and with all your strength." The next is to "love your neighbor as yourself." The Gospel today is a reflection of what Immaculée Ilibagiza will share during her presentation in December. In order to love fully, we need to forgive and open our hearts to be able to give and receive it. It can be easy to say that you love someone when everything is going well and right in the world. What do you do though when the storms roll in and the waves begin crashing overhead? What do you do when you feel unbearable pain because someone has deeply offended you or hurt you? We need to orient our hearts to love and forgiveness in order to grow in deeper relationship with God. He has called us to love as He loves, deeply and unconditionally. Jesus died on the cross and forgave. We are called to do the same, to bear the pain and still pour out our love.
We must be open to Christ's love and forgiveness. How else are we supposed to ensure that our hearts are fixed on the Lord than by forgiving those who have may have hurt us? On Wednesday, December 15th, at St. David Church, Immaculée Ilibagiza will share her inspiring triumph over hatred during the Rwandan genocide of the 1990s. Locked in a tiny, cramped bathroom for 91 days with seven other women, she hid from neighbors and former classmates she had once considered friends, who were determined to eradicate her race.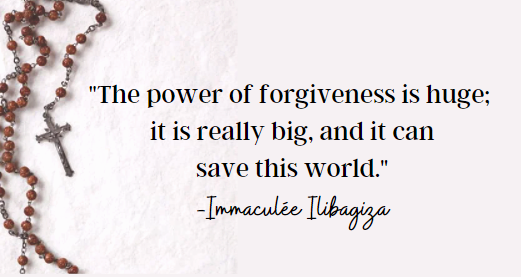 Immaculée clung to the rosary beads given to her by her devout Catholic father as he commanded her to flee to a neighbor's house for safety. All Immaculée did, day after day, hour after hour, was pray, especially Our Lady's Rosary. How could she forgive those she had once considered neighbors and friends that now ran rampant slaughtering innocent villagers, people the savage murderers once called friends, family? Through intense prayer and her fight for the will to live, Immaculée was graced with God's gift of love to forgive and felt an incredible sense of peace overcome her and settle on her heart. 
By listening to Immaculée's powerful presentation, the hope is that she may inspire forgiveness in your heart for past hurts that you may struggle with to let go. Her experience is an intense encounter that may seem impossible to some, but how often do you struggle with forgiving pain that has been inflicted by a coworker, a friend, or even a family member? How often do you struggle with forgiving yourself?
Forgiveness does not mean we have to forget the hurt we have endured, but without forgiveness, we are unable to connect our hearts fully to the Father's. Immaculée recognized this through her prayer of the Rosary as she remembered how Christ carried our burdens and forgave our sins on His cross over two thousand years ago. If Christ can forgive all those who have turned their backs on him, if Immaculée can forgive the murderers of her friends and family, can you examine your heart and forgive those who have wronged you?