+Dear Saint David Parishioners,
I hope everyone is enjoying these cool, crisp, and colorful days of autumn. In today's entrance antiphon, we read, "Guard me as the apple of Your eye." How apropos for those autumn apple pickers. And how endearing that each of us is the apple of God's eye. He loves and cherishes each of us as His own beloved child.
In the opening prayer, we ask God for the graces we need to live according to His will and in sincerity of heart. We continue onto the first reading where the Israelites are engaged in war. As long as Moses had his arms raised to God in prayer, the Israelites were successful. As soon as Moses rested his arms, the enemy had "the better of the fight." This analogy can remind us that when we are faithful to God, then we are able to resist the temptations of the devil, who tries all sorts of lies to drive us away from God.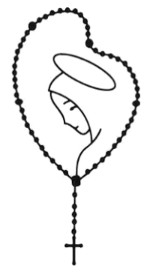 Just as Aaron and Hur supported Moses, we too support one another through our prayers and kind acts. We must persevere in prayer like the widow and believe that God loves us without measure and will always answer our prayers according to His will, even though it may not be exactly what we had in mind. We continue praying anyway and recall St. Padre Pio's words, "Pray always and don't worry."
As we heard in the responsorial psalm, we believe that "Our help is from the Lord, who made heaven and earth. … The Lord will guard you from all evil; He will guard your life. The Lord will guard your coming and your going both now and forever" (Psalm 121). In this month of the holy rosary, take time out to pray the rosary asking for the Blessed Mother's intercession. At Queen of Angels School, during October, the students pray a decade of the rosary for everyone's intentions. October blessings to all!
In Mary's Immaculate Heart, I am,
Sister Mary