Society versus Discipleship

Are we fully committed to follow Jesus and to be His disciples? Society says we are to be in charge and in control to be happy; but Jesus says we need to be obedient and follow Him, even along the Way of the Cross. Society says that we need to be rich to be happy; Jesus says that we need to be poor in spirit and detach ourselves from all our possessions. Society says that we are weak and foolish if we surrender our will to God and His Church. Jesus says that He is the Way, the Truth, and the Life. Each of us can look into our hearts and ask ourselves: Do I choose to follow Jesus or the norms of our society or world?
Jesus made it very clear in this Sunday's Gospel that there is a cost to discipleship. It requires sacrifice and renunciation and it is not always easy to follow Him and obey his commands. However, following the norms of society may bring superficial happiness for a time but our God is never outdone in generosity. When we do our best to love Him above all else, and to give loving service to our neighbor, He showers us with abundant spiritual gifts and lifts us up to Himself, especially during difficulties and trials. Embracing Christ and his call to discipleship will bring genuine, interior happiness and peace throughout our life and for all eternity.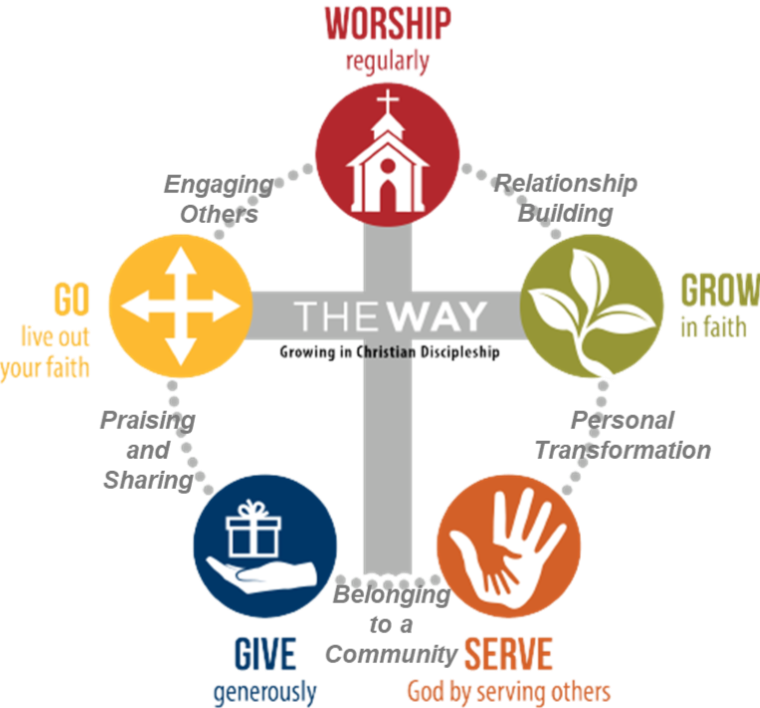 The Lord Jesus knows that we are all weak human beings and need a share in His Divine Life of Grace to persevere on the path of discipleship. Prayer or conversation with God and the Sacraments are the main vehicles of God's Grace available to us. Through Baptism we receive the grace of divine adoption and become a temple of the Holy Spirit. In Confirmation, we are "sealed with the gift of the Holy Spirit" and strengthened for service to the Body of Christ. Knowing that we are all sinners, Jesus offers his forgiveness to us in the Sacrament of Penance. With super abundant love, Jesus gifts us with his own Body and Blood in the Sacrament of the Holy Eucharist. Do I pray daily, go to Confession periodically, and receive Holy Communion frequently?
The Church knows that for many of us Jesus' call to discipleship can be daunting. Therefore, she gives us examples of ordinary people living extraordinary lives – The Saints. We can also imitate the lives of faithful discipleship many of us have witnessed firsthand in the lives of our own parents and grandparents. Their faith and trust in God, even in the midst of trials, can be the beacon that lights our way on the path of discipleship.
If you and I can resolve in our hearts: Yes, I do desire to follow Jesus' call to discipleship and reject the norms of our society, then our loving Lord will take our hand and walk the path of discipleship with us. His grace will sustain us if we promise to pray daily, go to Confession periodically and receive his Body and Blood in the Holy Eucharist frequently. If we are faithful, we can all look forward to the eternal peace and joy of the Heavenly Kingdom.
God bless you always!
Sr. Kathleen Fitzpatrick, IHM