We welcome all Catholics moving into the Willow Grove, PA area to our Parish community.
Please call the Rectory at 215-657-0252 to make an appointment to register. You can click this link to download the Parish Registration form in advance of your appointment.
---
Rectory Hours
Monday thru Thursday: 9 AM to 5 PM
Friday: 9 AM to 3:30 PM
---
Quick Reference Schedule:
Vigil Mass: Saturday night 4:00 PM.
Sunday Mass: 7:00 AM, 9:00 AM, 11:30 AM (All Sundays are obligatory for the faithful to participate in the Mass)
Daily Weekday Mass: 6:30 AM (Chapel), Saturday morning Mass: 9:00 AM.
Confessions: Saturday (excluding Holy Saturday): 12 Noon to 1:00 PM
Eucharistic Adoration (Chapel): Monday thru Friday 7:00 AM – 8:00 PM (except National Holidays)
Miraculous Medal Novena: Every Saturday after the 9:00 AM Mass
---
Appropriate Dress for Mass:
Two factors should motivate the way we dress when coming to Mass: The respect we have for God and the sacred liturgy, and the respect we have for our neighbor who sits near us at Mass. This is an instance when love of God and neighbor are placed before our own comfort. We thank you for your outward display of respect for the real, divine presence of Christ our Lord in the Blessed Sacrament as shown by your respectful attire.
---
Parish Giving is a safe, secure and easy way to make on-line Parish and Church related donations and payments!
---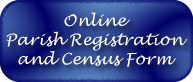 Please update your information using our online Census Form.
---
---