Sunday, December 18 @ 6:30 PM
Join us for EPIC's annual Christmas party. We will celebrate by coloring Christmas pages, decorating cookies, having an ugly sweater contest, having a white elephant pollyanna, and drinking hot coco! At the end of the night, we will have a Bible reflection on the Nativity to feel the joy of Christ this Christmas.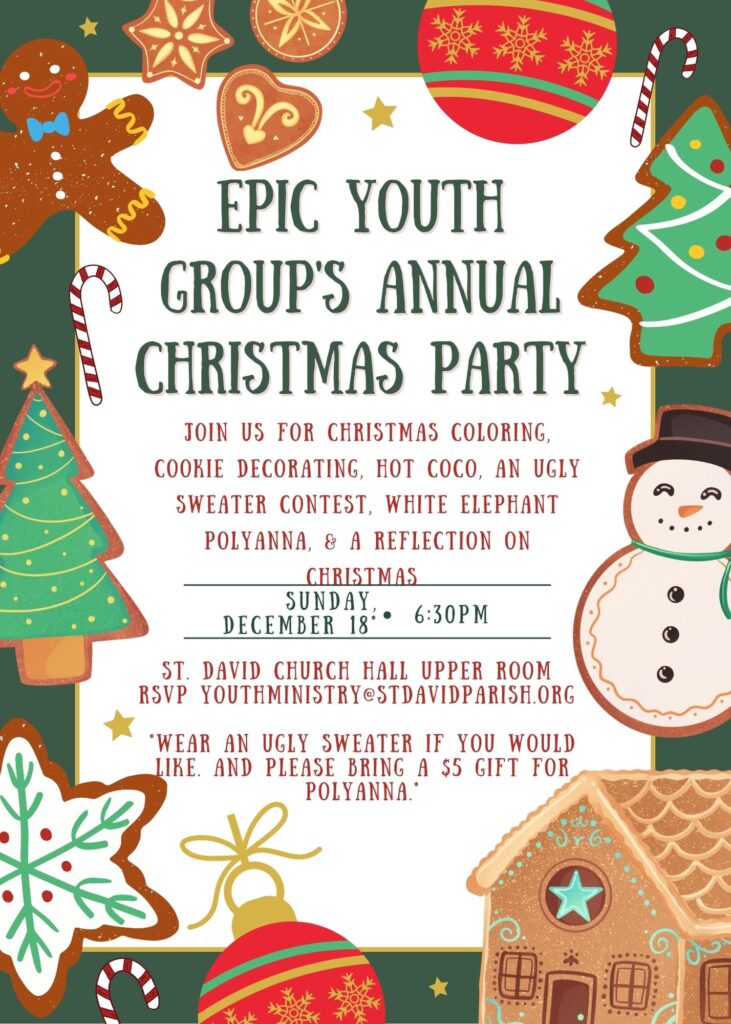 ALPHA SERIES

What Is Alpha?
Did you ever wonder if there might be more to life? Wouldn't it be great if there were a place where you could explore the meaning of life and spirituality with other curious people?
No matter who you are, what you've experienced, or where you've been, the Alpha course offers a respectful setting to explore life's most perplexing questions. In a safe, nurturing environment, you'll find a meaningful dialogue about who God is and his purpose for your life.
The Alpha course offers…
Great food
Spiritual truth explained clearly so that meaningful faith can grow
Thought-provoking discussion that welcomes all opinions & respects the pace of each participant
An opportunity to find genuine friendships
A journey that engages both the head and the heart!
To register for Alpha, please contact David Dombrowski or Mackenzie Kephart at youthministry@stdavidparish.org or call 215-500-6840.
A Typical Alpha Session
6:30 p.m. Doors Open
6:40-7:15 pm Gather for a meal
7:15-8:00 pm Presentation and Small Group Discussion
| | |
| --- | --- |
| Date | Talk Title |
| Tuesday, October 13 | Life: Is This It? |
| Thursday, October 27 | Who is Jesus? |
| Thursday, November 10 | Why Did Jesus Die? |
| Tuesday, December 1 | How Can I Be Sure of My Faith? |
| Thursday, December 15 | Why and How Do I Pray? |
| Thursday, January 5 | Why and How Should I Read the Bible? |
| Saturday, January 21 | Day Away – Holy Spirit |
| Thursday, February 2 | How Does God Guide Us? |
| Thursday, February 16 | How Can I Resist Evil? |
| Thursday, March 2 | Why and How Should We Tell Others? |
| Thursday, March 16 | Does God Heal Today? |
| Thursday, March 30 | What About the Church? |
Watch this video to learn more: