Sunday, October 23 @ 6:30 PM
EPIC Halloween Pumpkin Carving Night! This night is sure to be messy, fun, and exciting! Pumpkins will be provided as will some spooky treats! Hope to see you all there!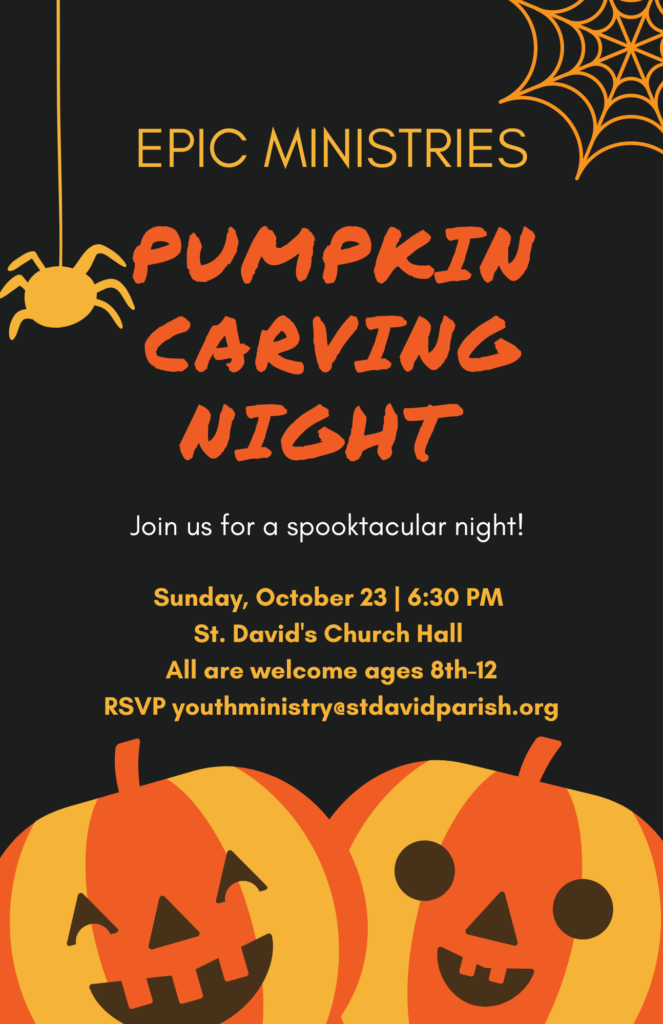 Thursday, October 27 @6:00PM
Alpha Series Part 2: Who is Jesus?
Ages 8th-12th are invited to participate every other week in the Alpha Series. This week we will be diving into the question, "WHO IS JESUS?" This group is for anyone looking to talk about their father and have fun in the process!
 Chick-Fil-A will be provided for dinner!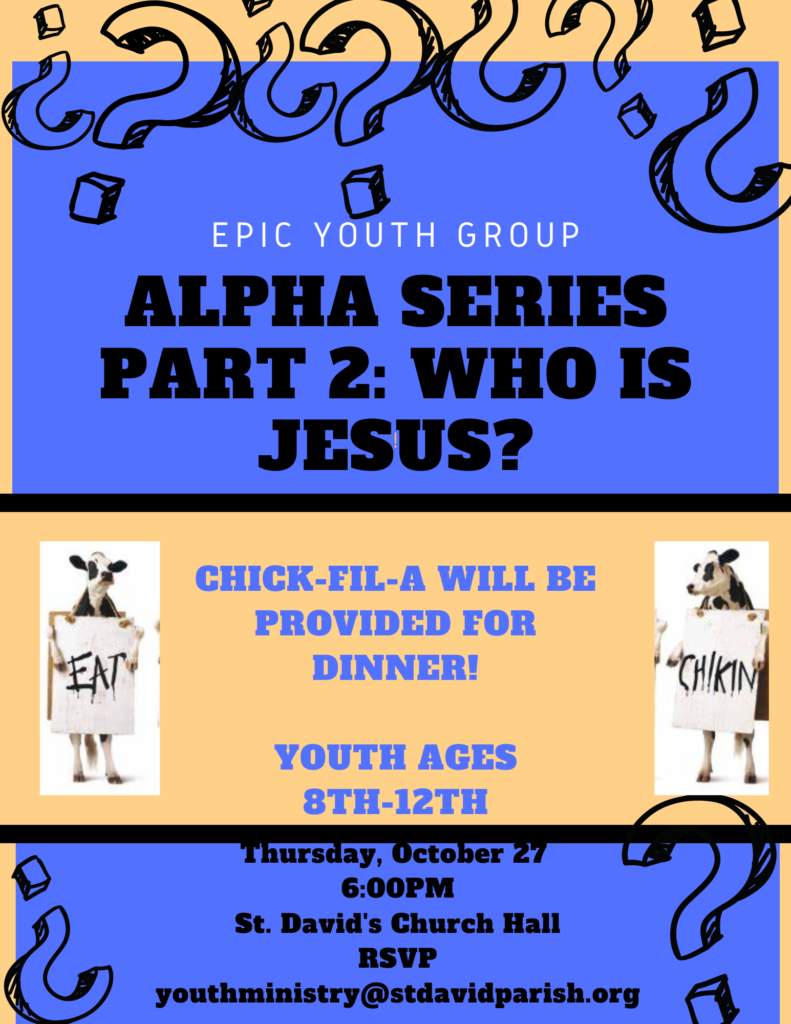 Saturday, November 5 – EPIC Service Project
Food Pantry. St. Catherine of Sienna hosts a weekly food pantry available for people in need. This is a great service opportunity for youth looking to help in their local community. Volunteers are needed between the hours 8:30am-12:00pm.  Youth may work a shift between 8:30am-10:00 a.m., between 10:00am-12:00 a.m., or both.  Service includes helping to pack bags, stock the pantry, sort donations, greet patrons and carry their bags, and clean the pantry.   
Open to teens in 7th-12th grades (Great opportunity for Prep Service Hours).  RSVP to volunteer or send email.
ALPHA SERIES

What Is Alpha?
Did you ever wonder if there might be more to life? Wouldn't it be great if there were a place where you could explore the meaning of life and spirituality with other curious people?
No matter who you are, what you've experienced, or where you've been, the Alpha course offers a respectful setting to explore life's most perplexing questions. In a safe, nurturing environment, you'll find a meaningful dialogue about who God is and his purpose for your life.
The Alpha course offers…
Great food
Spiritual truth explained clearly so that meaningful faith can grow
Thought-provoking discussion that welcomes all opinions & respects the pace of each participant
An opportunity to find genuine friendships
A journey that engages both the head and the heart!
To register for Alpha, please contact David Dombrowski or Mackenzie Kephart at youthministry@stdavidparish.org or call 215-500-6840.
A Typical Alpha Session
6:00 p.m. Doors Open
6:15-6:45 pm Gather for a meal
6:45-7:30 pm Presentation and Small Group Discussion
| | |
| --- | --- |
| Date | Talk Title |
| Tuesday, October 13 | Life: Is This It? |
| Thursday, October 27 | Who is Jesus? |
| Thursday, November 10 | Why Did Jesus Die? |
| Tuesday, December 1 | How Can I Be Sure of My Faith? |
| Thursday, December 15 | Why and How Do I Pray? |
| Thursday, January 5 | Why and How Should I Read the Bible? |
| Saturday, January 21 | Day Away – Holy Spirit |
| Thursday, February 2 | How Does God Guide Us? |
| Thursday, February 16 | How Can I Resist Evil? |
| Thursday, March 2 | Why and How Should We Tell Others? |
| Thursday, March 16 | Does God Heal Today? |
| Thursday, March 30 | What About the Church? |
Watch this video to learn more: