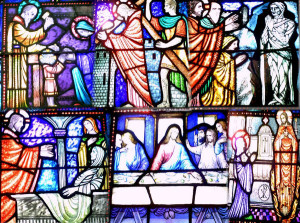 Contact: Sr. Kathleen Fitzpatrick, Director of Religious Education
215-659-4059
Come join the St. David Parish School of Religion!
Kindergarten through 8th grade Religious Education is in need of dedicated parishioners who love their faith and are willing to passion that faith to our young people in the upcoming school year as catechists, aides and teen helpers. We serve over 300 students every year in Kindergarten through 8th Grade alone.
Although we have a dedicated group of volunteer catechists and aides who return every year, we always need people to step up and help out where needed. Please call Sr. Kathleen Fitzpatrick at the number above if you are interested in helping.
Please call 215-659-4059 for an appointment for new registrations.
If you need to register for the coming school year, or should you need additional information, please call us at the Religious Education Office at 215-659-4059 or in the evening call 215-659-0445. We will be more than happy to help you.
Virtus Online – Introducing the Protecting God's Children™ Program
The National Catholic Risk Retention Group, Inc., is pleased to present a brief introduction to our Protecting God's Children program. This "Flash" presentation exemplifies the information provided in our child sexual abuse awareness sessions for adults. If you have attended an awareness session, this presentation will repeat some of the information presented in our two awareness videos: A Time to Protect God's Children and A Plan to Protect God's Children.
If you have not attended a Protecting God's Children awareness session, please click the link below to start the 11-minute presentation. If you have questions or comments about our programs or our website, please click here to send us an email message. And, either way, please visit our website frequently. New risk management information is added each week, with an emphasis on articles and interactive features designed to increase the public awareness about child sexual abuse, and to provide adults with the knowledge and tools they need to help prevent and, if necessary, to respond appropriately to child sexual abuse.
Click here to begin the Introduction to the Protecting God's Children program, or right click and choose SAVE TARGET AS to download the Protecting God's Children program preview.
Click here for sessions in the Philadelphia area.
If you are a volunteer who is returning to ministry and missed the technology addendum, it can be accessed online at: http://childyouthprotection.org/index.php/staff-volunteers/required-training.