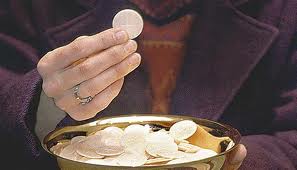 In every celebration of the Eucharist, there should be a sufficient number of ministers of Holy Communion so that it may be distributed in a reverent and orderly manner.
When the size of the congregation or the incapacity of the bishop, priest, or deacon requires it, the celebrant may be assisted by other bishops, priests, or deacons. If such ordinary ministers of Holy Communion are not present, "the priest may call upon extraordinary ministers to assist him, i.e., duly instituted acolytes or even other faithful who have been deputed for this purpose."
Extraordinary Ministers of Holy Communion should receive sufficient spiritual, theological, and practical preparation to fulfill their role with knowledge and reverence.
All ministers of Holy Communion should show the greatest reverence for the Most Holy Eucharist by their demeanor, their attire, and the manner in which they handle the consecrated bread or wine.
If you are interested in serving as an Extraordinary Minister of Holy Communion, please contact the Rectory at 215-657-0252.