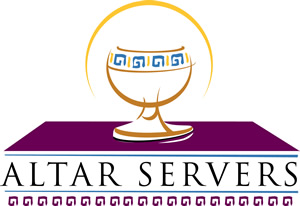 An altar server is one who helps the priest in the celebration of the Mass and other liturgical rites. Altar servers should learn about all that pertains to their important role in the Mass, and they should strive to grasp the inner spiritual meaning of these things. In this way, servers will be examples to all of reverence for sacred things and sincere love for the Church. It is an extreme privilege to serve at the altar.
One must never forget that serving at the Mass is prayer. A server should participate in Mass fully by singing in a moderate voice and saying the prayers with the rest of the assembled community. A server has a solemn responsibility to do the assigned duties with attention, dignity, and especially with great reverence.
Remember that Jesus Christ is truly present in the Blessed Sacrament.
Altar servers can be any age, and we especially encourage parents to share their love for the Church by serving as altar servers with their children.
If you are interested in being an Altar Server, please contact the Rectory at 215-657-0252.